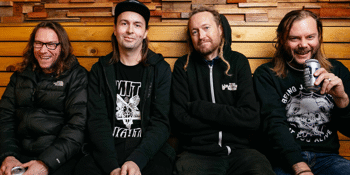 Blue Murder and Offbeat presents
Frenzal Rhomb
with Dicklord & Matty Effin Morison
Seaview Tavern (Woolgoolga, NSW)
Friday, 20 December 2019 7:30 PM
As the half-arsed winter slides its way into a semi-formed spring, keep lukewarm with Frenzal Rhomb, as they wind their away around Australia's fairly okay regional left-of-centres.
Solbar on The Sunshine Coast (the older yet less cool cousin of the Gold Coast) is this Friday night, a couple of shows at Crowbar Brisbane (one sold out, one a more intimate experience), and then Frenzal enjoy a well-earned break before re-exploding back onto the live scene in October for the Yours And Owls Festival in Wollongong (which is kind of like Newcastle but weirder). The next weekend they head to Balmain-by-the-beach, Byron Bay for the Byron Bay Guitar Festival, before settling into a big two-date tour of Victoria, hitting Melbourne and Frankston.

And, just announced, two big new shows, first of all taking it to the heavy-hitting not-quite-Coffs Harbour town of Woolgoolga on Friday 20th of December, bringing the yuletide cheer to Newcastle (which is kind of like Wollongong but weirder) for A Frenzal Rhomb Christmas Special, starring Totally Unicorn, Dicklord, Bitchcraft, Hack The Mainframe, Post Truth, Boudicca.

A veritable smorgasboard of musical treats to get you kind of tepid under the collar this year.